?
Book2net is proud to introduce the first entry level, high resolution book scanner. Thanks to its unique product concept the new book2net Spirit is more than a replacement technology for current copiers: book2net Spirit book scanner provides green & clean technology for libraries, significant less energy consumption and helps to reduce waste created by copiers.

The book2net Spirit was especially designed for public use and enables even unskilled walk-up operators to capture books faster and simpler than ever. There is no keyboard, no mouse or software to learn. The special design of the cradle guarantees a gentle treatment of even fragile books up to 489 mm x 351 mm in size.

As the book2net Spirit has no moving parts, it offers significantly reduced maintenance compared to copiers and outstanding reliability for years. Book2net Spirit is an out-of-the-box solution and is ready to use. There is no need for technical support on the installation. The coin option and smartcard interface of the Spirit allows an easy integration into existing accounting systems and enables the libraries to quickly recover their investment.

Thanks to the unrivalled price-performance-ratio the book2net Spirit is the first state-of-the-art book scanner which is affordable even for smaller libraries.
?
?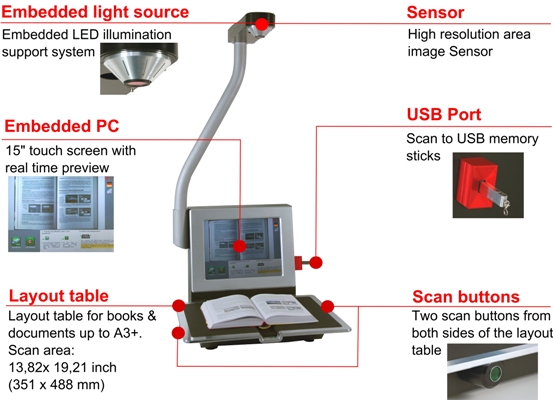 ?
Specifications

Unrivalled price performance ratio
Layout table for books & documents
up to A3+
Scan area 13,82 x 19,21 inch
(351 mm x 488 mm)
Embedded PC with 15? touch screen with real time preview
Scanning speed: 0.2 seconds
Cycle time including image preparation: 0.7 seconds
high resolution area image sensor
Depth of focus 3 inch (7,6 cm)
Scan to USB memory stick

Automatic exposure time control
Color depth: 36bit color internal, 24bit color external
Embedded LED illumination support system
Windows embedded operating system for maximum protection, (Enchased Write Filter). Long time availability guaranteed.
Out of the Box Scan application with integrated image enhancement
Customer specific configuration of outputted file format. Single page JPG, PDF, TIFF, JPEG2000; Multipage PDF, TIFF
Maintenance free
Learn more and visit book2net-spirit.com